Meet Studio Owner, Sherry Lankford
Having moved to Gwinnett County from Atlanta, Sherry recognized the lack of hot power yoga classes or heated yoga studios in Gwinnett County. She drove 35 miles to get to hot yoga studios or studios that offered heated yoga classes, which made it very difficult to keep up her regular practice. Realizing that other Gwinnett yogis were doing the same, Sherry knew she had to bring hot yoga to Gwinnett County, and is excited to have opened Gwinnett's first hot yoga studio in the heart of Downtown Lawrenceville.
Sherry began yoga teacher training in 2004 after college. Currently, she is a 200 hour Experienced Registered Yoga Teacher (E-RYT) with Yoga Alliance, and is also a Yoga Alliance Continuing Education Provider (YACEP).  She has trained through YogaFit International and CorePower Yoga, and loves teaching energetic vinyasa classes. Sherry practiced and taught non-heated vinyasa yoga for nearly ten years before finally trying hot power yoga in 2015. Hot power yoga transformed her yoga practice into new levels she never knew were possible and transformed her body into its most powerful form. Sherry also holds certifications to teach Barre fitness and mat Pilates, but for her, teaching yoga is her passion.
Sherry's classes are a moving meditation and are set to dynamic playlists that she loves to share. Having danced for 20+ years, vinyasa yoga for Sherry is like a dance. Her favorite part about teaching yoga is watching her students move together with harmony and rhythm, hearing their synchronized breath, and feeling their powerful group energy. She inspires yogis to find their strongest and most powerful practice in a mindful and safe space.
In between yoga classes, Sherry is a Georgia-licensed attorney and practices law primarily in Gwinnett County. She is a founding partner of Tyler Moore Law, LLC,  also located in Downtown Lawrenceville. Yoga balances Sherry's life by offering her a yin to the yang of her attorney career. She believes that everyone can benefit from yoga like she does, especially those in high-stress professions. She is thrilled to bring the gift of hot power yoga to the Gwinnett community and hopes to see you soon at PPY!
Meet Laura Blatterman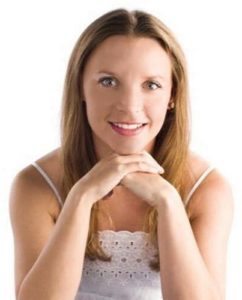 Laura teaches dance, yoga and fitness on professional, educational, competitive and performance levels internationally-teaching hundreds of people a week. As a professional ballet dancer, Laura toured and performed with acclaimed companies such as Luna Negra Dance Theatre, Ballet Magnificat, Piel Morena Contemporary Dance, Cerqua River Dance Theatre and performed alongside legendary dance companies such as Joffrey Ballet, The Seldoms and Giodano Dance. As a teacher, Laura received The Dorothy Mullins Awards for her work with disadvantaged children. More recently, Laura traveled to Cape Town, South Africa where she was able to teach on the college level as well as in the townships. Laura decided to teach yoga after 18 years of a steady yoga practice, and shortly after obtained her formal 200-hr yoga teacher certification. Laura is working toward her 500-hr certification and has trained gymnastic state champions as well as Junior Olympic champions and coached two NFL champions to the Super Bowl this past season.
Meet Emily McInnis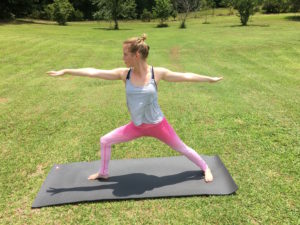 Emily has taught yoga across Georgia for four years and has practiced yoga and meditation for nearly ten. Her yoga practice has helped her get through a lot of things in  life including physical pain and depression. Through her classes,  she brings the possibility of transformation and grounding energy with a balance of movement and stillness. It takes strength, focus, and stillness to keep up a yoga practice. Emily has taught yoga to all ages and levels, including children, seniors, veterans, athletes, and everyone in between. She believes a yoga practice should support your health and support the discovery of finding who you really are. Emily is 500 Hour experienced yoga instructor (E-RYT) and a Yoga Alliance Continuing Education Provider (YACEP).

                                                Meet Joshay Simmons



Joshay is a free spirit who enjoys life. Her fitness journey began eight years ago when she decided to take control of her physical, emotional, and spiritual health. In 2010, Joshay became a certified Zumba® teacher and started teaching classes around the Atlanta area for four years.
Although Joshay took a few yoga classes and practiced yoga at home, it was not until March of 2014 when she decided to dive deeper into her practice and to get her RYT.
"The more time I spent on my mat, I realized that my mindset started to change. I started looking in the mirror and actually liked what I saw without worrying about pounds lost or thinking about ways in which I wanted my body to change. That feeling of acceptance slowly freed me from negative self-talk and I started to embrace my body as it was. I realized that my size did not affect my ability to practice yoga. My body is capable of amazing things and so is yours!"- Joshay Simmons. Joshay is a 200hr Registered Yoga Teacher. She has been featured in Buzzfeed, Plus Model Magazine, and Yes Yoga Has Curves. The mental, spiritual, and emotional benefits of a daily yoga practice have been phenomenal for her and she is excited to help you to begin/continue your yoga journey!

Meet Amy Baker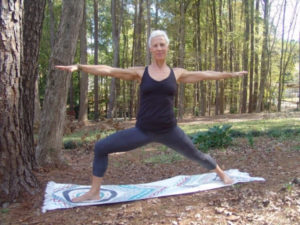 Amy has embraced movement and healthy living all her life. Naturally attracted to explore yoga to strengthen and heal, her practice has grown, bringing balance from physical over achiever to awareness of self love. It is her life mission to continue to learn and grow. After 5 years of a dedicated personal practice, Amy completed her 200 hour RYT certification in 2014. She shares different styles of yoga in her classes and encourages students to mine for the wise guide inside. She believes we all want to feel strong, calm and free of worry! Amy has 10 years' experience as an ACE certified fitness trainer with a commitment to help women build bodies capable to handle life challenges that arise. You can find Amy outdoors each day appreciating nature, creating nourishing meals in her kitchen and listening to music while dancing with her husband, teen daughter, and Lana DR the dog.
Meet Mary Kay Jordan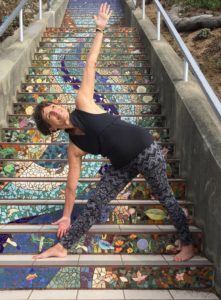 Mary Kay began practicing yoga in 2000 and finds joy in sharing her love of yoga with a wide variety of people.  She encourages her students to approach yoga as a way of life – to find a place where the world slows down, the mind quiets, and the breath rules the body.  She encourages her students to discover the many ways a body can move as well as finding balance in the asanas and in life.  

Mary Kay teaches an integrative Hatha yoga style with an emphasis on precise alignment and inner focus.  In each class, Mary Kay will consistently remind students to feel the whole body breathing, to practice each pose without judgement, and to love yourself.  

 


Mary Kay is holds a 200 hour level Yoga Alliance Certification (RYT-200) from Lifted Heart Yoga and has been certified by Asheville Yoga Center in Senior Yoga. She has studied with Roger Cole, Amy Ippoliti, Christi Ryphens, and Libbie Hinsley.  
 

Meet Lara Stewart



Lara has been practicing yoga since she was a teen. Her yoga practice developed after suffering an injury in her dance career. She turned to yoga to repair herself physically and mentally. Then when her mother developed an eating disorder, Lara's mat became her safe place. A place of rest, a place to flow freely, a place to be herself. Realizing the magic of yoga, she wanted to share her safe space with others. Her favorite place to practice is with her cats! Lara graduated from Peachtree Yoga Center in February of 2018 and has already taught several Vinyasa classes to a variety of levels and ages. She believes that yoga is for everyone; all one needs is an open heart and a mat to call home. Lara is continuing her yoga education to obtain her 500 hour certification. She's always excited to share laughs, yoga, and herself with others!